Aujourd'hui, l'innovation est un processus complexe, peu prévisible qui passe parfois par des croisements de connaissances et de compétences entre des acteurs différents (industriels, chercheurs, citoyens...). Ces dynamiques peuvent se produire de manière intrinsèque au sein des S&T (Sciences et Technologies), ou des SHS (Sciences Humaines et Sociales) mais également de plus en plus, les innovations majeures naissent dans des écosystèmes qui croisent à la fois S&T et SHS.
Les changements radicaux qui s'opèrent en sciences et technologies ne peuvent s'affranchir d'un interfacage transdisciplinaire et sur le long terme des S&T et des SHS car l'hybridation des idées, des concepts, des méthodes et des domaines disciplinaires sont de puissants fertilisants...
Ainsi nous regroupons sous le terme générique "Smart Interfaces" l'étude, la conception et la mise en oeuvre d'interactions Homme-Homme, Homme-Système et Système-Système qui favorisent l'émergence d'une intelligence positive pour les usagers.
Nous souhaitons, lors de ce workshop, échanger avec les différentes communautés scientifiques et industrielles qui s'intéressent comme nous à ces notions d'intégration de systèmes, d'interfaces socio-techniques, cyber physical system, human system integration, smart system integration.
Cette journée sera un moment propice pour échanger sur toutes ces notions mais aussi pour les positionner les unes par rapport aux autres grâce à nos intervenants, des chercheurs reconnus et des industriels de ces différents domaines.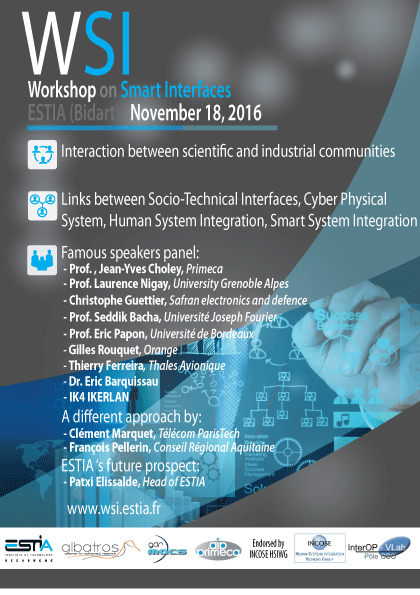 Through this workshop, we wish to bring together and interact with different scientific and industrial communities interested on different concepts as: systems integration , socio-technical interfaces, cyber physical system, human system integration and smart system integration.
Innovation requires not only the rapprochement of intra S&T experts but also the interaction between S&T and SHS. Depending on whether we are talking to the individual or a social group, the radical changes taking place in science and technology cannot be possible without a genuine and long-term S&T and SHS rapprochement. Hybridization of ideas, concepts, methods and subject areas is a powerful fertilizer.
Thus, using the generic term "Smart Interfaces" we bring together the design and implementation of human-human interaction, human-system and system-system that fosters the emergence of a positive intelligence for users.
This event has been designed to be the perfect opportunity to analyse, discuss and classify all these concepts thanks to our speakers which are leading researchers and industrial experts of these areas.
Steering Committee
Prof. Nadine Couture (ESTIA Recherche, LaBRI)
Prof. Jérémy Legardeur (Estia-Recherche, IMS)
Prof. Ionel Vechiu (Estia-Recherche)
Prof. Christophe Merlo (Estia-Recherche, IMS)
Organization Committee :
Nadine Couture: General chair
Erika Reuter: General organization and Communication
Nadine Péhau: Webmaster
Marion Saumonneau: General organization and Budget
Mikele Larronde: General organization and Budget